Prom and Graduation photos will be available soon.
Graduation Video Recording
Important Senior Week & Graduation Reminders
Tuesday, May 23, 2023
Dear Grade 12 Students and Caregivers:
I would like to provide some reminders regarding Senior Week activities and Graduation.
Student Behavior
Given that tomorrow, Wednesday, May 24th is the last day of school for seniors, we would like to remind students that they are to be in their assigned classes or shops during the school day. Students will not be permitted to roam the building, go to parking lots during the day, or leave early. Students who will not comply may not be allowed to attend Senior Week events such as the bar-b-que, prom, and Spirit of Boston boat cruise.
Accommodations at Graduation
If your family or guests require accommodations at graduation, such as handicapped bleacher seats or assistance getting to your seat on the field. Please email my Administrative Assistant, Erin Nestor at enestor@essextech.net. Please send your email as soon as possible so that we have time to make the necessary arrangements. We may not be able to arrange for last-minute requests.
Graduation Practice and Bar-b-que
Practice will occur at the stadium on Thursday, May 25th, beginning at 9:30 am. Students should arrive through the West gate (closest to the pond). Following graduation practice, students will head to South Campus to pick up student records, caps and gowns, yearbooks, and senior swag bags. Graduation tickets will also be distributed at this time. We will also have a bar-b-que on the lawn of Smith Hall following graduation practice. Please note that students will not be allowed to go back into the school building after graduation practice or after the bar-b-que, classes will be in session, and we would like to avoid interruptions.
Prom
Our prom will be held on Tuesday, May 30th at Danversport Yacht Club. As a reminder, all students must arrive at the prom via an Essex Tech bus. Students who do not take the bus will not be allowed to enter the prom. Students should arrive at Essex Tech by 5:00 pm and report to the gym for bag checks. Buses will pick up students outside the gym and will return to the gym after the prom. The promenade will be held at Danversport at 5:45 pm, and families are invited to attend.
Graduation
Graduation will be held at 6:00 pm on Thursday, June 1st. Rain dates will be Friday, June 2nd at 6:00 pm and Saturday, June 3rd at 10:00 am. Each student will receive six tickets, with two for seats on the field and four for seats in the bleachers. We do not have additional tickets to provide. Graduation will be live-streamed via our Essex North Shore Youtube Channel through the Class of 2023 Class Hub on our website at this link. Parking will be challenging with so many guests at graduation. We encourage families to carpool if possible.
If you have any questions, please contact me at sdonnelly@essextech.net.
Sincerely,
Shannon B. Donnelly
Principal
Graduation & Senior Event Information
May 9, 2023
Dear Grade 12 Students and Caregivers:
As our seniors work diligently to wrap up their academic classes, career technical and agricultural programs, and cooperative education placements for the school year, it is now time to talk about our Graduation and Senior Week festivities. Our Graduation ceremony for the Class of 2023 will be held on Thursday, June 1st at 6:00 pm. Our keynote speaker will be Lt. Governor Kim Driscoll. We hope that this will be an event that our graduates and their families will cherish forever. Our Graduation ceremony will take place outdoors at the Essex North Shore Agricultural & Technical School Stadium. In the event of inclement weather, the ceremony rain date will be on Friday, June 2nd at 6:00 pm. If a decision is made to move Graduation to Friday, seniors and caregivers will be notified shortly after 1:00 pm on Thursday, June 1st through the school's Blackboard Connect phone messaging system. If we have inclement weather on Thursday, June 1st and on Friday, June 2nd the Graduation will be held on Saturday, June 3rd at 10:00 am.
Each graduate will be allowed to bring six guests to graduation. Two guests will be seated on the field with their graduate. The remaining four guests will sit in the bleachers. Each graduate will receive six tickets for Graduation. The tickets are for seats on the field and in the stadium (and this includes handicapped seating). Tickets will be distributed to seniors at Senior Sign Out on Thursday, May 25th. Tickets must be presented at the entrance gate for seating. Due to the size of our facility and the number of graduates, we cannot offer more tickets. Thank you for your understanding. This event will be live-streamed for family members who are not able to attend.
It is always best to arrive early, by 5:00 pm, to avoid difficulties parking your car and to allow time to be seated well before the procession begins. There will be designated parking for those guests with handicap plates.
Once seniors have been handed their diplomas and step down from the podium, they will walk to an official photography area, where each student will pose for a formal photograph before returning to the student's seat.
Awards Night will be held in the school gymnasium on Thursday, May 18th at 6:00 pm. At this event, many members of the Class of 2023 will be recognized for their achievement, merit, and service through the formal announcement of scholarships and awards. Caregivers of those students will receive a personal invitation and an email RSVP to the Awards Night ceremony Students will wear their gowns this evening, as well as any honor cords. The keynote speaker this year is the Honorable Serge Georges, Jr., who serves on the Massachusetts Supreme Judicial Court.
We are happy to accommodate any guests who need assistance with interpretation services. This includes language interpreters and American Sign Language interpreters. We are also ready to assist any families who may require accommodations for a handicapped guest. If you will need an interpreter or require any other special accommodations at Graduation or Awards Night, please email my administrative assistant, Erin Nestor, directly at enestor@essextech.net.
In addition to Graduation and Awards Night, the Senior Class Officers and faculty advisors have many other special events planned for an exciting and memorable senior week.

Senior Week 2023
Tuesday, May 9th
6:00 pm Maple Street Bistro
Honor Scholar Dinner(for seniors in the top 5% of the class)
Thursday, May 18th
6:00 pm Students should arrive at 5:30 pm
Senior Awards NightStudents assemble in the Main Cafeteria
Wednesday, May 24th
Last day of school for seniors
Thursday, May 25th
9:30 am


Mandatory Graduation Practice Students meet at the stadium for Graduation rehearsal.
Senior Sign Out – South CampusCelebration BBQ & Games
Friday, May 26th
No school for seniors
Tuesday, May 30th
5:00 pm
5:45 pm
6:30 pm – 10:30 pm
Arrival at school to board buses
Promenade at Danversport
Prom
Wednesday, May 31st
9:00 am – 3:00 pm
The Odyssey Boat Cruise – Students should arrive at the Main Cafeteria no later than 9:00 am to be bussed to Boston.
Thursday, June 1st
6:00 pmStudents report to the Main Cafeteria at 5:00 pm.
Graduation
Friday, June 2nd
6:00 pm
Graduation Rain Date
Saturday, June 3rd
10:00 am
Graduation Rain Date
This year our prom will be held at the Danversport Yacht Club. All students will need to arrive at the prom by traveling on an Essex Tech bus. Busing is mandatory; students will not be allowed to drive themselves or be dropped off directly at the prom. Buses will leave Essex Tech beginning at 5:15 pm. The buses will bring students back to school following the prom at 10:30 pm. All students should arrive at school by 5:00 pm to board buses. We will be hosting a Promenade at 5:45 pm at Danversport Yacht Club for all students attending the prom. Parents and caregivers are invited to attend the Promenade. In case of inclement weather, the Promenade will be held in the Gymnasium.
In order to provide all of these events, we need students to pay their class dues. Class dues are $200.00 in total. At this time, there are still some students who have not paid their dues. This money is used to fund yearbooks, caps and gowns, senior t-shirts, and gifts. The dues are also used to offset the cost of some of the Senior Week activities. If you have not yet paid your class dues, please contact Ms. Grace at ngrace@essextech.net or Ms. Mills at kmills@essextech.net. Dues can be paid by check, cash, or credit/debit card.
Our Graduation ceremony and Awards Night formally recognize the accomplishments of our seniors—all of whom have worked and succeeded in so many ways during their high school years. Please help your graduate reflect on the importance of both these occasions. Graduates should dress appropriately so that gowns fit properly. We ask that there be no tank tops, shorts, or blue jeans, as these will detract from the dignity of commencement events. In addition, graduates must wear dress shoes or sandals. Please be advised: due to the delicate nature of both the synthetic field and track, high heels are not allowed. If a student arrives with footwear that is deemed inappropriate by administration, the student will be given a pair of flip-flops. By following these guidelines, our Graduation and Award Night ceremonies will reflect the dignity and recognition our students deserve. Please note that family members or guests will not be allowed on the field if they are wearing high heels. Consider wearing flats or wedges, as they will not damage the turf. Guests wearing heels will be asked to sit in the stadium.
If you have any questions, please contact me at sdonnelly@essextech.net.
Sincerely,
Shannon B. Donnelly
Principal
Senior Activities
Dear Class of 2023 Families,
As the senior class prepares to join the ranks of Essex Tech Alumni, we'd like you to take note of the following dates and activities for your planning purposes.
Trivia Night
Thursday, March 30, 2023
5:00-8:00 pm
Main Cafeteria
Dinner and trivia with your teachers, administrators, and staff members!
Senior Honors Dinner
Tuesday, May 9, 2023
6:00 pm
Maple Street Bistro
Invitation-only event for the top five percent of the graduating class
Senior Awards Night
Thursday, May 18, 2023
Students should arrive at 5:30 pm and assemble in the Main Cafeteria
Awards night will begin at 6:00 pm in the Gymnasium
Students who are receiving awards will receive invitation letters
Graduation Rehearsal
This is a mandatory school day – make arrangements now with your co-op employer if necessary!
Thursday, May 25, 2023
9:30 am
Students should meet at the stadium for graduation rehearsal
Cap and gown distribution, yearbook distribution, and Senior BBQ will be held on South Campus
Senior Prom
Tuesday, May 30, 2023
6:30-10:30 pm
Promenade 5:45 pm at Danversport
Danversport

Students will need to arrive at school to be bussed to Danversport no later than 5:00 pm
Prom tickets can be purchased from Mrs. Mills in E119 or Mrs. Grace in B205. Tickets will be available through May 15, 2023.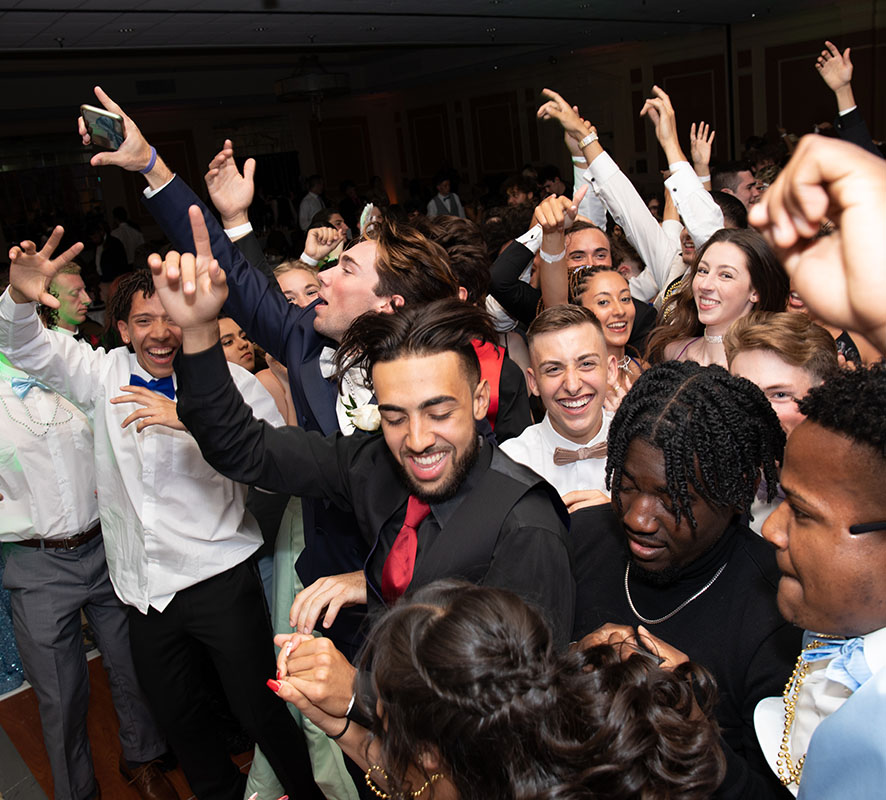 Senior Trip
Wednesday, May 31, 2023
Cruise on the Spirit of Boston!
Students should arrive at school no later than 9:00 am to be bussed to Boston
Meet in the Main Cafeteria
Approximate return to school 3:00 pm – Students should sign up for the late bus if they need transportation..
Permission Slips will be available starting Wednesday, May 3rd in room E119. Returning the permission slip signs you up for the trip. Reservations will be on a first come first serve basis.
Graduation
Thursday, June 1, 2023
6:00 pm
Stadium
Students should meet in the main cafeteria at 5:00 pm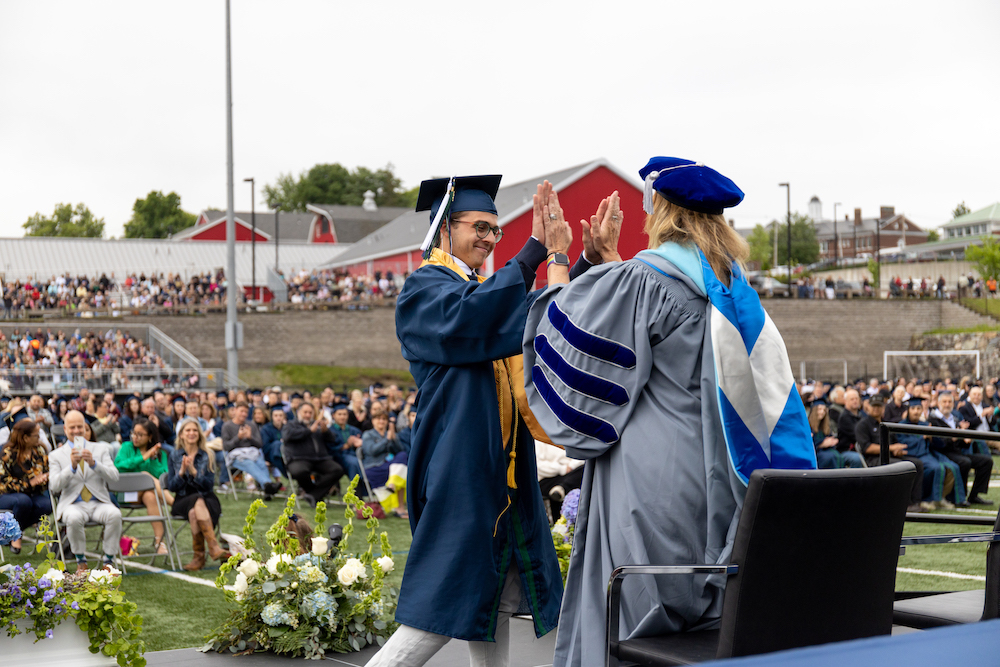 ---
Past News & Events
Dessert Night
Thursday, February 9, 2023
6:30-9:00 pm
Main Cafeteria
* Students can buy discounted tickets from Mrs. Mills in E119 or Mrs. Grace in B205. Cash or checks only.