Services Cluster
About This Program
Marketing students will develop knowledge and skills related to business development, entrepreneurship, management, and communications. The curriculum integrates marketing process, accounting, digital applications, advertising, product selection and display, inventory management, merchandising, and customer service. Students will discover the world of economics and study legal issues related to finance. Students will also learn about emerging trends in business and finance.
*Pending MA DESE Approval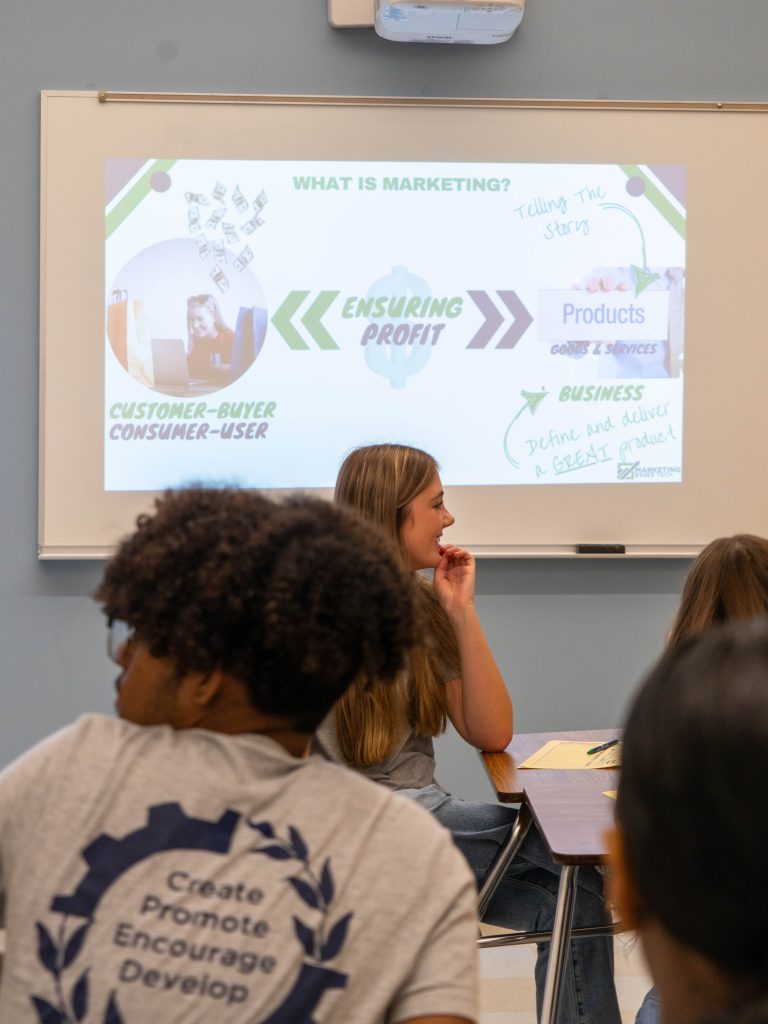 Career Paths
COMMUNICATIONS SPECIALIST
MARKETING ASSISTANT
SOCIAL MEDIA COORDINATOR
SEO SPECIALIST
PUBLIC RELATIONS COORDINATOR
SALES REPRESENTATIVE
MARKETING ANALYST
Meet the Marketing Teachers
Marketing Course Descriptions
Marketing Exploratory 9
Course #: mk101 | Credits: 1
This five-day cycle exploratory course introduces grade 9 students to the careers in business and marketing, including social media, digital, and internet marketing. Students will participate in an engaging activity where they have to create a new product or service, promote or advertise the product, establish a price, and determine how the product or service will be sold through either retail or online sales.
Marketing 9
Course # mk103 | Credits: 10
This semester-based course engages students in marketing as a means to promote a product or services. They will do so by using computer software to design promotional flyers, create advertisements, and participate in a group advertising project. Students will also explore industry standards, marketing regulations, policies, and laws, and various marketing associations code of ethics.
Marketing 10
Course # mk200 | Credits: 16
This full-year course will further study the principles of marketing through the creation of a marketing plan to operate and manage a business. Students learning will focus on supporting this plan through consumer science, selling, advertising, and profit goals through cost management. In addition, students will explore the elements of supply chain management, distribution channels, and product and service pricing as a function of marketing.
Marketing 10 Theory
Course # mk201 | Credits: 4
This full-year, classroom-based course will focus on marketing theories and their impact on consumer behavior. Students will further explore the impact that marketing theories have on marketing concepts, marketing mix, marketing research, target marketing, and the effect of social media on marketing. In addition, students will learn about how marketing theories connect with technology, analytics, and advertisements.