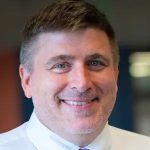 Mr. Tony DiLuna
STEAM Academy Coordinator
Tony DiLuna joins the Essex North Shore Leadership Team bringing over 20 years of STEM education experience with him. After a stint as a senior scientist at Serono Reproductive Biology Institute (now EMD Serono), Tony started his career in education at Woburn Memorial High School where he served as a science teacher, coach, and Director of New Teacher Induction and Retention. He taught mainly biology, chemistry, and occasionally physics for 12 years before transitioning into an administrative role. Tony served the next nine years as the Curriculum Coordinator for STEM in Billerica Public Schools. There he oversaw curricula revisions that led to over 90% of Billerica students scoring proficient on MCAS in both math and Biology.
Committed to authentic assessments and project-based learning, Tony procured over $500K in competitive grants to introduce Project Lead The Way pathways in engineering, biomedical science, and computer science to Billerica Memorial High School. He oversaw the creation of a FIRST Robotics team, a Science and Engineering Fair, and a Lamelson MIT InvenTeam to name a few.
Over the past 17 years, Tony has been active at the state level through DESE. He served on the Biology and Chemistry Assessment Development Committees to create the MCAS in those subjects. He sat on the committees that revised the science standards in 2005 and 2015 and wrote model curriculum units for the new standards. He conducts monthly curriculum appeals for MCAS and serves as an alternate assessment reviewer.
Tony holds a B.S. in Biology and Religion from Bates College, an M.S. in Toxicology and Ph.D. in Entomology from the University of Kentucky, a Graduate Certificate in Teaching Biology from Salem State University, and is wrapping up an Ed.D in Math and Science Education from the University of Massachusetts Lowell. In October of 2019, Tony was inducted into the Massachusetts Hall of Fame for Science Educators for his "extraordinary contributions to the advancement of education in the sciences over a long and distinguished career".