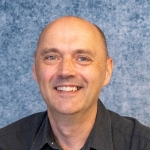 Mr. Paul Crofts
Career, Technical, and Agricultural Education Coordinator
Paul Crofts joins the leadership team as one of the school's CTAE coordinators. Mr. Crofts is a dedicated and versatile educator who brings a unique blend of experience to his role. Originally hailing from the United Kingdom, Paul ventured to the US in 1992 and for fifteen years thrived as a self-employed artist and designer in New York City. However, in 2005, his insatiable curiosity took a turn toward the academic world, leading him to delve into anthropology and climate science. This wasn't just a pursuit of knowledge; it marked the beginning of Paul's foray into education, culminating in his transition to full-time teaching by 2012.
Paul holds a Bachelor of Arts degree in Fine Art from St Martin's School of Art and a Master of Arts in Mesolithic Studies from The University of York. He is licensed as a CTE Supervisor/Director, CTE Environmental Science Teacher, and in Academic History, Biology, and Art. Furthermore, he is certified as a Servsafe Manager and a Heartsaver Instructor. Throughout his life, he has played various roles in teaching and training, but his tenure at a vocational school illuminated his true calling. Recognizing the profound impact of vocational education, he felt an unmistakable connection and a sense of belonging.
His professional journey has not gone unnoticed. He was honored with the Essex National Heritage Special Recognition Award, marking his significant contributions to the field. As the CTAE Coordinator, Paul envisions an expanded role of the department in the community. By leveraging agricultural and technical programs, he is determined to foster stronger bonds between families, partners, and the broader community. His unique trajectory, from the vibrant streets of NYC to the classrooms of vocational & agricultural education, stands as a testament to his adaptability, commitment, and vision for a more hands-on and community-centric educational system.