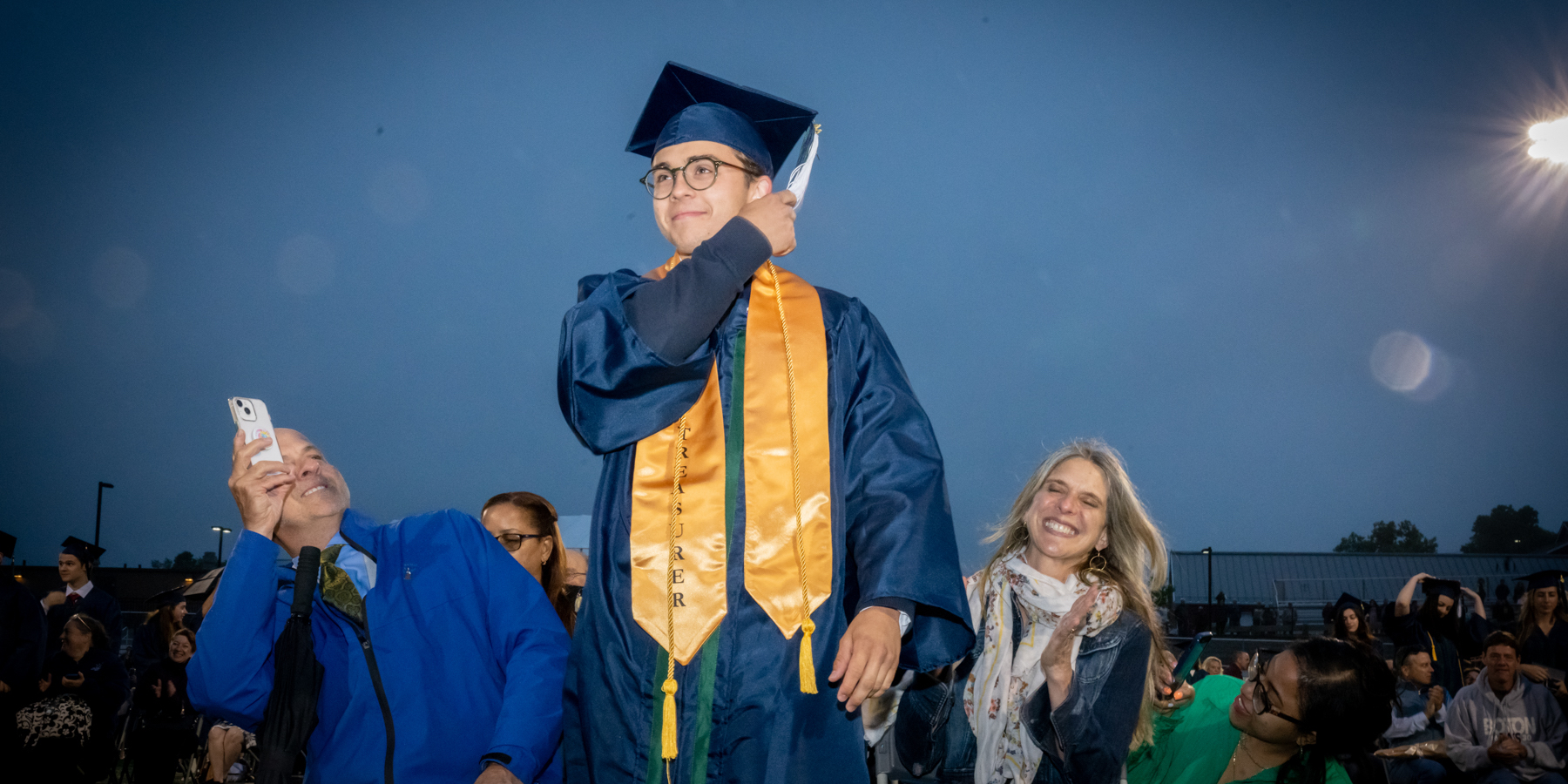 The Essex North Shore School Counseling faculty provide comprehensive, school-based services to all students with the goal of nurturing skills for students' success during high school and beyond. Freshman students are assigned to a Grade 9 freshman counselor who assists them with their transition to a regional, career technical high school. Grade 9 counselors also work closely with Grade 9 students to assess their career interests in preparation for participation in the Grade 9 Exploratory Program and the ensuing career technical program placement. These freshman counselors continue to work students throughout their ninth-grade experience. Beginning in Grade 10 and through Grade 12, students are assigned to an Academy-specific School Counselor consistent with their career technical/agricultural program.
At all grade levels, students participate in academic and career guidance lessons delivered by school counselors throughout each year and students graduate having developed a Four-Year Career Plan with the support of the school counselors. Students and their families may access information in their respective student's Career Plan and explore career and college opportunities on their student's Naviance/Family Connections account (link below).
All students have access to supportive interventions from school counselors and school adjustment counselors (contact information below) to address their developmental, social, and emotional needs. Collaboration with caregivers is also an essential component of our guidance model. Caregivers are encouraged to contact their student's counselor as circumstances arise. Appointments with school counslors and school adjustment counselors are welcome and can be scheduled by emailing or calling the counselor directly*(contact information below)*.
---
Parent & Caregiver Sessions
The School Counseling Department sponsors the following parent information sessions annually:
| | |
| --- | --- |
| New Family Orientation | August 22, 2023 |
| ENSATS College Fair | October 11, 2023 |
| Senior Parent College & Career Planning Night | October 11, 2023 |
| Freshmen CTAE Program Selection Parent Info Night | November 29, 2023 |
| Freshman Family CTAE Program Fair | January 4, 2024 |
| Sophomore & Junior Caregiver Night | TBD |
---
SCHOLARSHIPS
Students
Information about available scholarships is available in Naviance and in the link below Contact your school counselor with questions about scholarships or college and career planning.
STUDENT SCHOLARSHIP INFORMATION
Community
If you or your organization are interested in offering a scholarship to Essex North Shore Agricultural & Technical School students, please contact us at scholarships@essextech.net
Quick Links
School Counseling Staff
| Image | First Name | Last Name | Position Title | Email | Extension |
| --- | --- | --- | --- | --- | --- |
| | Daniel | Connors | School Counselor | DConnors@essextech.net | 3114 |
| | Heather | Denton | School Adjustment Counselor | HDenton@essextech.net | 5110 |
| | Wendy | Fajardo | Admissions & Freshman School Counselor | WFajardo@essextech.net | 5108 |
| | Ashley | Forster | School Adjustment Counselor | AForster@essextech.net | 5207 |
| | Sandra | Goldstein | Director of School Counseling & Admissions | SGoldstein@essextech.net | 3110 |
| | Jason | Loring | School Counselor | JLoring@essextech.net | 3113 |
| | Kelly | Mello | School Counselor | KMello@essextech.net | 1516 |
| | Julie | Montague | Admissions & Freshman School Counselor | JMontague@essextech.net | 5110 |
| | Cara | Moretti | School Adjustment Counselor | CMoretti@essextech.net | 5201 |
| | Casey | O'Donnell | School Counselor | CODonnell@essextech.net | 3111 |
| | Emily | Ouellet | School Adjustment Counselor | EOuellet@essextech.net | 5208 |
| | Elizabeth | Shea | Cooperative Education Instructor | EShea@essextech.net | 2102 |
| | Nabil | Silfa | School Counselor | NSilfa@essextech.net | 3123 |
| | Brianna | McNeil | School Adjustment Counselor | BMcNeil@essextech.net | 5107 |