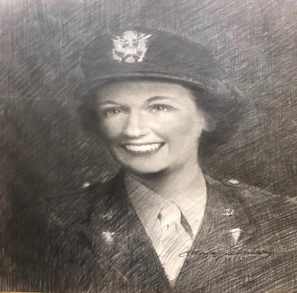 Catherine "Kay" Marie Larkin was born in Salem in 1921, the 2nd of five children to Nora Kelleher Larkin and Edward Larkin, an Irish Catholic family with deep Salem roots.
Her father was a butcher who owned Larkins Market at 132 Boston St, the family residing above. She attended Salem Schools and went on for further training in Home Economics at Essex Aggie. There, she discovered that taking care of people was her passion and enrolled in the Salem Hospital Training School for nurses. Upon graduation in 1938, she did further training in hospitals in Salem and Providence, Rhode Island.
When the war broke out, she heard the call for trained nurses and wanted to join the Army Nurse Corps. Her parents were understandably not supportive of her idea. Her older brother Edward Jr. and her two younger brothers, John and Robert, had all enlisted in the military. But Catherine was persistent, "the boys need me," she insisted, and in 1941, enlisted in the Army Nurse Corps, leaving only her younger sister Margaret home to care for her older parents.
Catherine first served stateside at Harding Field in Baton Rouge, LA, where she enjoyed the camaraderie of other military nurses, writing letters home and sketching people and places. She wrote about how excited she was to be promoted to 1st Lieutenant in the Rank of Chief Nurse. In December of 1944, as the war ramped up, she was assigned to the 803rd Medical Air Evacuation Squadron in the Persian and Indian Theatres. While establishing a MASH unit, short for Mobile Army Surgical Hospital, in Calcutta, she wrote home about how moved she was by the poverty she witnessed.
Sadly, just a few months later, Catherine was tragically killed along with other military nurses when the C-47 transport crashed into a mountain in bad weather near Ledo, India. After some time to recover her remains, Lt. Catherine Larkin returned to Salem and was buried in St. Mary's Cemetery.
There are several tributes to commemorate Lt. Larkin, including the Catherine M. Larkin Memorial Practice Cottage at the Essex County Homemaking School, which was established in 1950 and is currently being rebuilt as a multi-use facility, museum, and learning lab. The Larkin Room for Homeless Women Veterans at the Montachusett Veterans Outreach Center in Gardner, Massachusetts, was named in her honor. Most recently, on November 11, 2022, at Larkin Square in Salem, the Lt. Catherine M. Larkin, RN Memorial was dedicated to commemorate her service to our country in wartime and serve as an inspiration to others.