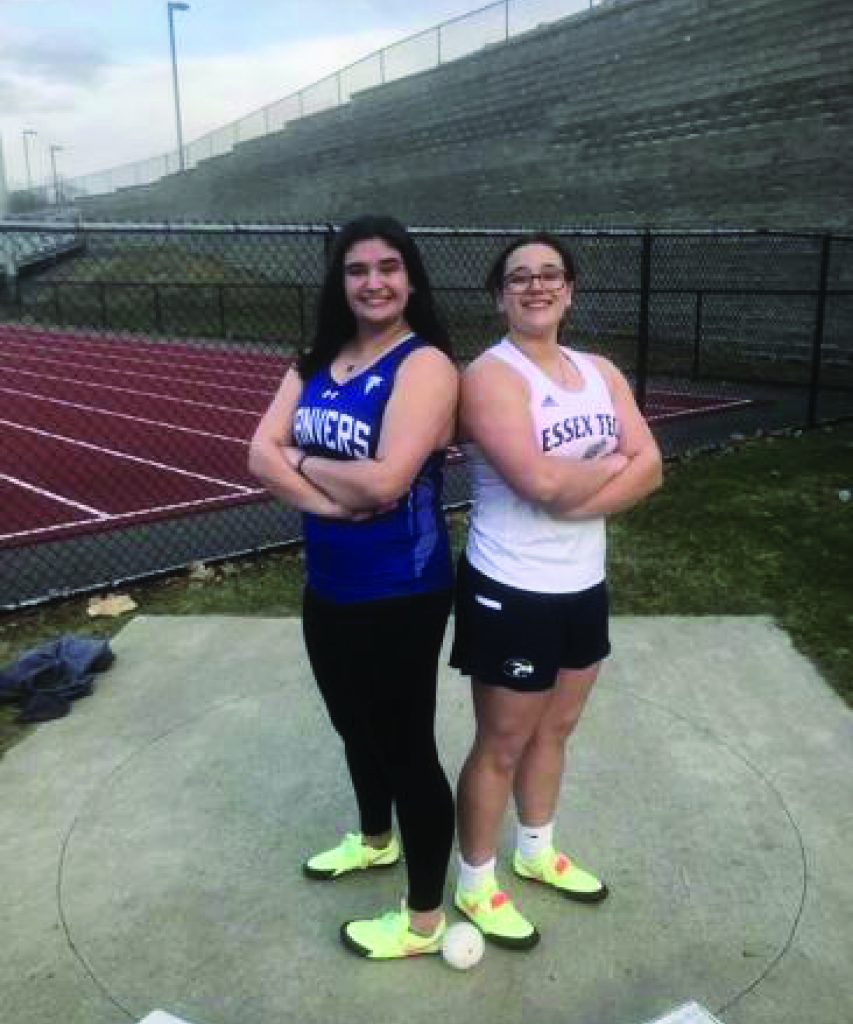 For the first time ever in a major track event, the Abbatessa sisters from Danvers will be competing against each other this weekend at the Division 4 States in both shot put and discus.
Cali Abbatessa is a senior at Danvers High while Maci is a junior at Essex Tech. At the state meet at Notre Dame of Hingham, Maci is seeded fifth in the shot put while Cali is sixth. In the discus, Cali is seeded second overall while Maci is 13th.
The events will mark both the first and last time it will ever happen, since Cali will be on the track team at Elon University next year.
For the Hawks, Maci has set three school records this year: both the indoor and outdoor shot put, plus the discus. Her best throw in the shot is 34 feet 8 1/2 inches, topping her sister's mark by five inches. Cali has thrown the discus 111 feet, with Maci's at 94-11.
"When I found out I qualified for states, I cried. I'm ready to compete with my sister," said Maci, noting the two last competed against one another back when they were middle schoolers.
"It's not anything too different because we're pretty competitive in everything we do," she continued. "Everyone in my family is so excited for us, especially my dad (Mitch, who threw the shot for Peabody High). He's been waiting to see this since we were in middle school."
Maci admits she enjoys the shot put a little more than the discus. Her sister also slightly prefers throwing the shot despite being ranked higher in the discus.
Cali chose Elon for its academics first and will major in biology. But she also figured why not see about trying out for the Division 1 track and field team, even though she felt it was a stretch.
"In March I went for scholarship interviews and saw there's a beautiful track facility at Elon, so I emailed throwing coach Laura Igaune, never really expecting to hear back," said Cali. "She responded and said they were looking for a couple more walk-ons. At the time my throws weren't up to what they wanted at Division 1, but I've improved my PR's and now have a place on the team."
She'll compete both indoors and outdoors for the Phoenix track and field program. Igaune even asked if Cali would be interested in the hammer throw, and she responded that she's excited to learn it.
"My sister and I are both doing way better than last year, and I'm really proud of Maci for what she's done," Cali added. "I'm both very nervous and excited about competing against her. She's a little better in the shot put than my best. That just gives me extra motivation, especially since I'm older."
Danvers head track coach Jeff Bartlett noted that Cali has been consistently improving all season.
"Our throws coach, Patrick Hennessey, has done a great job working with Cali. She's 14 feet 5 inches away from the school (discus) record, set in 1999 by Rhiannon Amor," Bartlett noted. "Cali is a leader on and off the track, reliable and consistent. We knew we could rely on her for a lot of points during the dual meet season, and she seems to rise to the occasion for the MIAA championships.
"We're all excited to see the Abbatessa sisters throw together," he added. "Their dad is a track official and knows a lot of people in the track and field community. I bet the crowd really gets into it."
There's a slight possibility the sisters might be on the same team at Elon in the future. Maci talked to the coach when her sister was on Zoom and hopes to meet her in person when the family takes Cali to college.
"I'm not ready to give up track after I graduate next year," said Maci. "Seeing what my sister is doing, I want to keep going with it, too."