Good Afternoon, Families
It's been an exciting week at Essex Tech! We had three exciting hockey games, our Horse Judging Team is off to Fort Worth, Texas for the National Youth Horse Symposium, DECA students will be in Boston this weekend for the state competition, and we have our first overnight Ski and Snowboard Club trip.
Upcoming Schedule
Here is a preview of the schedule for the week after the break:
| | |
| --- | --- |
| Monday, March 13 2023 | Day 9: Green |
| Tuesday, March 14, 2023 | Day 10: Green |
| Wednesday, March 15, 2023 | Day 1: Blue 8:45 am Late Start |
| Thursday, March 16, 2023 | Day 2: Blue |
| Friday, March 17, 2023 | Day 3: Blue |
Concerns
Over the last few days we have received several calls from parents who are concerned that threatening statements were made by one of our students. We want to assure you that if there is ever a threat to the safety of our students and staff, we will communicate that information to our school community as soon as possible. We also ask that if students or parents have concerns that they contact us directly. Social media is not an adequate or appropriate forum to share concerns and often leads to the sharing of inaccurate information. Please work with us to keep our community safe. https://www.eventbrite.com/e/essex-tech-talent-show-tickets-533753199187.
Talent Show
YOU ARE INVITED… to the Essex Tech Talent Show run by the Essex Stars Dance Team! This fantastic event will take place on Friday, March 31st at 2:45 pm (only for students, staff, and teachers) or 7:00 pm (open to all) in Alumni Gymnasium. Please join us for an evening of the arts with acts featuring singing, music, poetry, contortion, magic, and, of course, dance! We strongly encourage purchasing tickets ahead of time using the QR on our flier or using the link below. For those purchasing tickets at the door, the cost will be $10 in cash only. Essex Tech students will be free with a school ID. Proceeds from this event will go towards supporting the Essex Stars Dance Team For questions or more information, please email our dance teacher Miss Cocco at tcocco@essexech.net
MCAS Schedules
The Next-Generation MCAS English Language Arts test administration for grade 10 students will take place on Tuesday, March 28th and Wednesday, March 29th. Grade 9 and 10 students will arrive at 7:45 am. Grade 9 students will go to CTAE and Grade 10 students will take the MCAS test. Grade 11 and 12 students will arrive at 11:30 am.
Late Buses for Juniors and Seniors during MCAS
While our juniors and seniors do not have to worry about MCAS testing, the testing does cause a change in their schedule. On Tuesday, March 28th and Wednesday, March 29th juniors and seniors will need to arrive at school at 11:30 am. We will provide bus transportation for those that need a ride, however students will need to sign up for bus transportation for pickup on the morning of the 28th and 29th. Please click here to sign up for a ride, sign ups are available until March 22nd to allow time to complete the routes for our drivers. If students do not sign up for a bus, they will need to drive or get a ride to school. Please note: Buses will follow the regular bus schedule for Grade 9 and 10.
Junior Semi Donations
The Class of 2024 is kindly requesting donations of cans of soda, juice packs, water bottles, individually wrapped candy and precut/individual desserts for the upcoming Spring Fling on March 24th. All donations can be dropped off in the Main Office by March 24th. Please note that the donation is for Mrs Deacon, the Class of 2024 Faculty Advisor, or for the Class of 2024. Thank you!
Step-Up for Colleen-5K
In previous years, Ms. Deleskey coordinated an Essex Tech Hawks team for the annual Step-Up for Colleen 5k. We are continuing this tradition, and this is a great event to honor a teacher who had a great future in education, whose life was cut short. Registration is now open, and there is a discount if registered before Pi Day (March 14, 2023). Please be sure to register for the Essex Tech Hawks team. You can register HERE.
Kindness Award
Kindness Week is celebrated in April, and the planning is already underway. If you would like to honor someone who inspires you, nominate them for the Hawks Kindness Award. Nominations will be accepted for any member of the ENSATS community. Any students, staff, teacher, or administrator who exemplify the traits of generosity, teamwork, compassion, and kindness are eligible. Please use the link below to access the nomination form. Nominations will be accepted until March 24th.
Kindness Award Nomination Form
SkillsUSA Cash Calendar
This winners for this week are:
3/4 – Charles Jones – $50 Target Gift Card
3/5 – MaryElyse Sullivan – $25 Bistro Gift Card and $10 Bagel World Gift Card
3/6 – Jennifer Skane – $25 Gift Card to Village Silver Smith & $25 Gift Card to T.J. Maxx
3/7 – Tina Almeida – $100 Salon CC Gift Card
3/8 – Gregory Hayes – Salon 365 Gift Card
3/9 – Cam Mackenzie – Lush Gift Bundle and $10 Tredwell's Gift Card
3/10 – Lorena Santos – $100 Cash
SkillsUSA Cash Calendars sales have been extended through the month of March. They can be purchased using this link: Essex Tech Cash Calendar. If you have any questions please reach out to samantha.cook@eths.education.
Student Activities Calendar
For information regarding Student Activity meetings, please view our Student Activities Calendar.
In case you missed it!
Click here to view our previous messages.
Heidi T. Riccio, Ed.D., Superintendent-Director
Shannon B. Donnelly, M.A.T., Principal
Thomas J. O'Toole, Assistant Superintendent
Essex North Shore Agricultural & Technical School
565 Maple Street | Hathorne, MA 01937
(978) 304-4700 | EssexNorthShore.org
Find us on Twitter | Facebook | Instagram
Create | Encourage | Promote | Develop
Picture of the Week
Horse Judging Team ready for their trip to Fort Worth, Texas.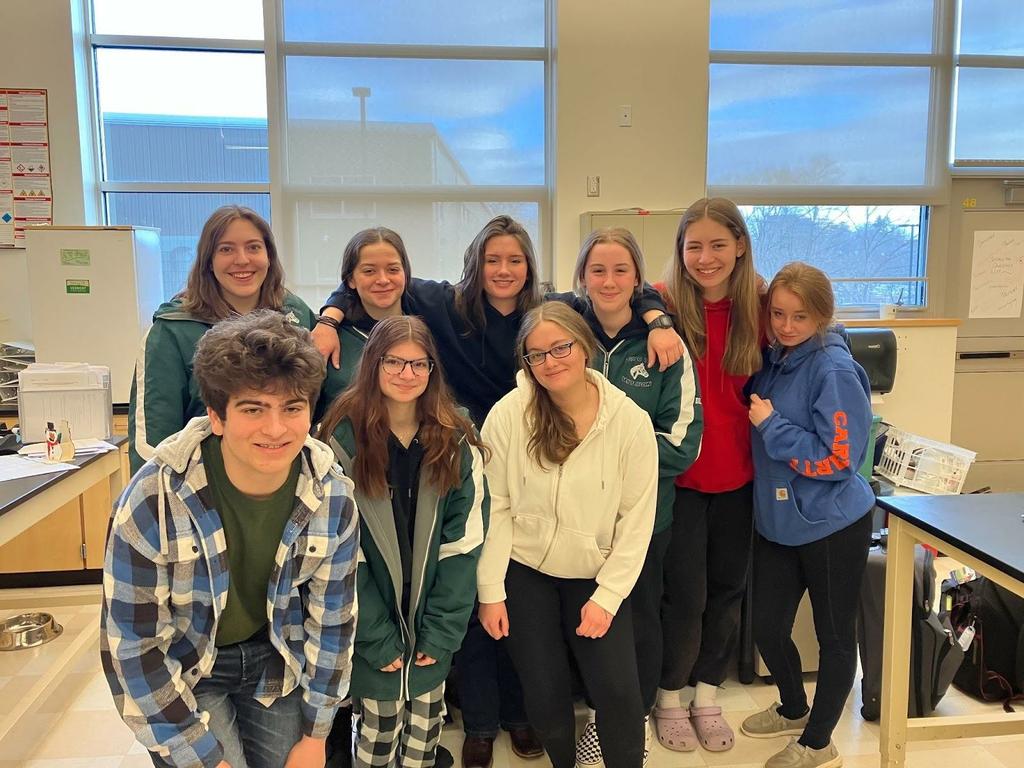 JED High School
A big thank you to this JED Team who will be laying the foundation for some strategic planning to support students.