Good Evening Parents/Caregivers and Students:
Mask Optional
At last night's school committee meeting, our reopening task force presented a Flex-Mask plan for Monday, February 14, 2022. This plan provides us with the ability to make masks optional for students and staff. Our school district has continued to work with our state leaders throughout the course of this pandemic and will continue to do so. We recognize that there are people on both sides. However, we will support all students and staff during this transition. In March 2020, no one could have imagined that a two-week shutdown would result in a two-year and counting roller coaster ride. We have all worked hard to keep our school a safe place for students to learn their trade. ENSATS will continue to work toward creating an inclusive environment for all. We appreciate the work everyone does to make this happen daily.
Here are some specifics about the Flex-Mask plan
Masks will be optional for all students and staff members.

Masks are

required

on all buses and in the nurse's office.

MIAA guidance requires masks for all attendees at our sporting events until February 28th.  This includes players, coaches, officials, and spectators. 

Masks will be required for visitors to our building.
Upcoming Schedule
Here is a preview of the schedule for the next week.  
Monday, February 14, 2022

Day 4:

Blue

Tuesday, February 15, 2022

Day 5:

Blue

Wednesday, February 16, 2022

Day 6:

Green

 

10:45

am Late Start

Thursday, February 17, 2022

Day 7:

Green

Friday, February 18, 2022

Day 8:

Green
Updated School Calendar
Please use this link to view the updated school calendar.  There are a few important changes to note:
Friday, March 11th was originally a No School day for students and a professional development day for staff.  We are going to change this to an 11:00 am early release for students and with staff professional development in the afternoon.

We have also made an adjustment to our MCAS plans.  We will now have both Juniors and Seniors arrive at 11:30 am on MCAS testing days, for English Language Arts in March and for Mathematics in May.  These dates are noted in the calendar.
Budget Update
The preliminary 2023 budget was approved by our school committee last night and will move to a public hearing on March 10, 2022. At that point, it will then be sent to our 17 communities for a vote by their Board of Selectmen or City Council. You can find the narrative here.
Project Adventure Supports
The School Counseling Department at Essex North Shore Agricultural & Technical School is pleased to announce our partnership with Project Adventure to bring  Adventure-Based Counseling (ABC) opportunities to our Essex Tech students.  Please click here for more information. 
Before School Drop-Off and Afterschool Pick-Up
Once again, we have seen an increase in the number of students being dropped off or picked up in the WRONG LOCATIONS on campus.  We desperately need your cooperation with this in order to keep students and staff safe as we move almost 2000 people on and off campus each day.  If you are dropping your student off, do so in the back of the building in the lot by the gymnasium.  Students cannot be dropped off in the front of the building until after 7:45 am.  Students should be picked up in the same lot by the gymnasium.  Parents are parking in other areas of campus, in particular in the Angell Animal Hospital lot. Parents who are waiting for their children there are taking all of the spots needed for animal hospital customers and their pets. Please do not park in this lot.  Your cooperation is appreciated.
Winter Integration Academy
We are excited to announce that we will be offering our Winter Integration Academy for students who would benefit from a fun-filled, hands-on EGG DROP DESIGN project that takes place over February vacation here at Essex Tech!  The goal of the Winter Integration Academy is to provide students with an additional 20 hours in mathematical learning through an engineering project taught by Essex Tech teachers.
Here are the dates for the Academy:
Thursday, February 17, 2022 2:45-4:15 pm Academy Icebreaker Activity
Tuesday, February 22, 2022 8:00 am-1:30 pm Egg Drop Test and Design
Wednesday, February 23, 2022 8:00 am-1:30 pm Egg Crumple Test and Design
Thursday, February 24, 2022 8:00 am-1:30 pm Egg Launch Test and Design
Friday, February 25, 2022 8:00 am-12:00 pm Competition: Drop, Crumple, Launch
As an incentive for participation, students with perfect attendance during the Winter Integration Academy will receive the following:
a $25.00 Target gift card

a $25.00 Amazon gift card

a daily raffle for other fun gifts and surprises

extra credit points added to your Quarter 3 Math grade

winning team gets lunch in the Bistro
Seats in the Academy are limited and will be filled on a first-come, first-serve basis.  Please complete the following application link to be considered as soon as possible.
This is an incredible opportunity, and we hope you will take advantage of it. Students will also receive a grab-and-go breakfast and an excellent lunch daily and transportation to and from home if needed will be provided.
Sophomore & Junior Parent Information Night
The Essex North Shore School Counseling Department will be hosting our Sophomore & Junior Parent Information Night on Wednesday, March 2nd at 6:00 pm in the Library/Media Center and by Zoom. Pre-registration for the event is required; please use this Zoom link.  Agenda items include information to support families with preparing for their child's career and college goals.
At-Home Testing Program  
Students whose caregivers opted their children into the At-Home Rapid Antigen Testing Program by noon on February 9, 2022, can pick up their kits in West Dining during all three lunches on Thursday, February 17, 2022. Students who are unable to pick up their tests on Thursday may pick up their test kits in A-203 from 7:30 am to 1:30 pm.  We are following the DESE recommendation and request that your child tests on Sunday, February 27, 2022, rather than the scheduled Wednesday of February Vacation Week.  
The Health Office is closed over vacation.  Questions regarding the student testing program should be directed to Kelli Orso at korso@essextech.net.  Caregivers can opt their children into the At-Home Testing Program at any time.  The deadline for opting in for the distribution of tests on March 7, 2022 is Monday, February 21, 2022 at noon. Information about the program and the opt-in form can be found here. 
Activities: Week of February 14, 2022
The following document includes activities for the: Week of February 14, 2022.
COVID Dashboard and COVID Information Update
Here is the link to our COVID Dashboard.  The Dashboard can be accessed directly on the families page of our website in the COVID-19 section.  We have also added updated DESE COVID-19 Protocol Flowcharts and Test-and-Stay information to this section.  
Have a restful weekend.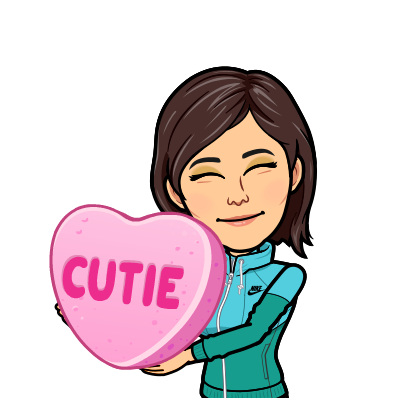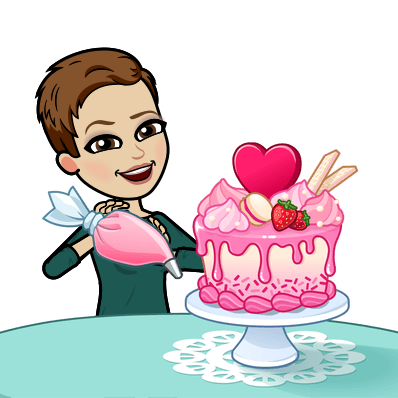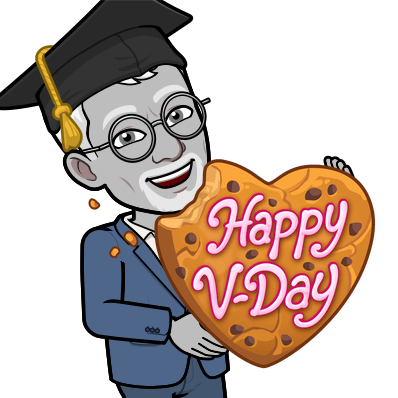 Heidi T. Riccio, Ed.D., Superintendent-Director
Shannon Donnelly, M.A.T., Principal
Thomas O'Toole, Ed.D., Assistant Superintendent
Essex North Shore Agricultural & Technical School
565 Maple Street | Hathorne, MA 01937
(978) 304-4700 | EssexNorthShore.org
Find us on Twitter | Facebook | Instagram 
Create | Encourage | Promote | Develop 
Pictures of the Week
As always, training our future workforce is a priority! We are happy to partner with our communities for the After Dark Partnership Program. This Jeep was a custom job done for a customer by our After Dark students in Auto Collision.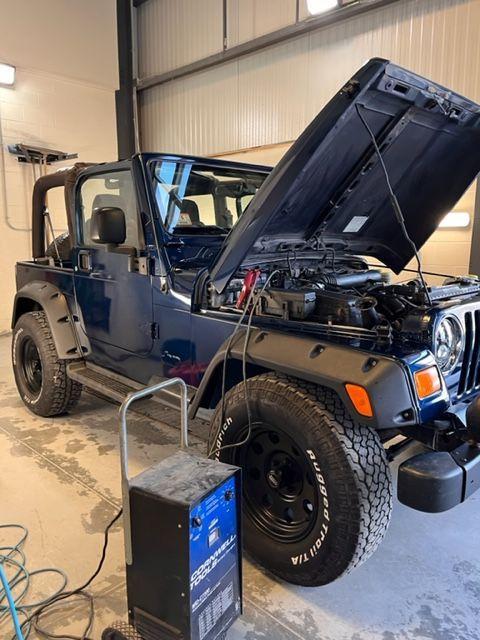 Sam Craveiro from Beverly, who is enrolled in our After Dark Partnership Program in Automotive Technology stayed late to finish a job on his mother's car working with Mr. DeCoff.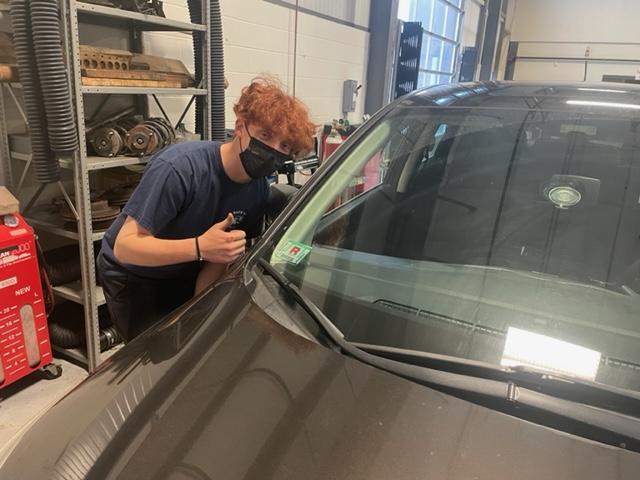 Thanks to Governor Baker's Skills Cabinet, our Advanced Manufacturing program is receiving additional equipment to support the program.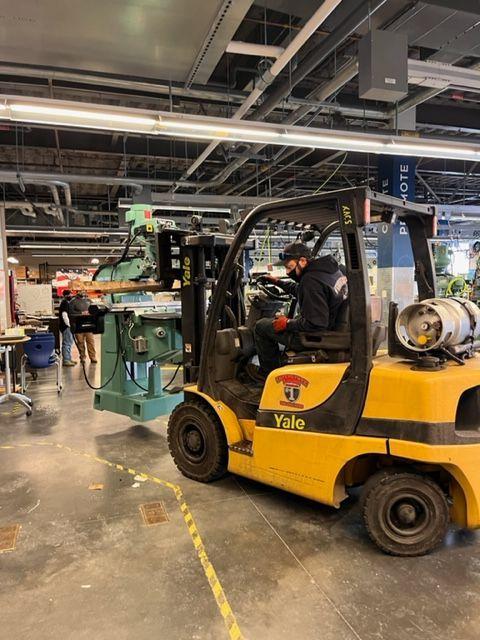 In Plumbing, our 10th-grade students are learning how to interpret schematic drawings and use copper and PVC piping.