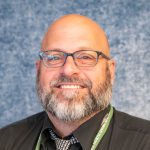 Mr. Donald Ducharme
Career, Technical, and Agricultural Education Coordinator
Don Ducharme brings 15 years of experience with him from Greater Lowell Technical High School. Don began as a masonry instructor where he taught Freshman Exploratory, Masonry Related and Sophomore Shop for seven years.
Don has spent the last eight years as the Transportation and Manufacturing Cluster Chairperson overseeing Automotive Technology, Automotive Collision, Machine Technology, Metal Fabrication and Joining, Electronics, CAD, and Engineering.
Mr. Ducharme is a graduate of UMass Lowell with a BS in Medical Technology.  He also holds a Master's degree in Education Administration from American International College.  Don is licensed as a Supervisor Director (9-14), as well as Vocational Assistant Superintendent/Superintendent-Director.